Where there's a will ...
Event Information
When
7 Jun 2014

9:00am

-

12:30pm
Where
Queensland Baptists Conference Centre, 53 Prospect Road, Gaythorne
Brisbane
Queensland
Other Information
Cost: $15 (QFHS members) $20 (non-members)
Contact
Where there's a Will: Wills and associated matters in Queensland, Australia, and the UK
Presenter/s: Saadia Thomson-Dwyer, Shauna Hicks, and Ann Swain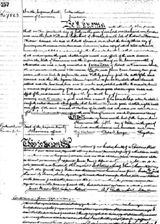 Saadia Thomson-Dwyer is the Senior Reference Archivist at the Queensland State Archives.
Saadia's presentation will guide you through records available at the Queensland State Archives and how you can locate them. Shauna and Ann will advise on researching Australian and UK Wills.
Shauna Hicks is an archivist, librarian, and family historian with over thirty-five years' experience and is the author of a number of research books published by Unlock the Past. Shauna is a Fellow of the QFHS
Looking for Australian Probate Records: this talk looks at resources available for researching wills, intestacy and probate administrative records in Australia. Personal examples will be used to highlight some of the wonderful details that can be found in these records.
Ann Swain started researching her family's history in 1975 and is a founding member of the Queensland Family History Society.
The UK Scene: Never say, 'my family was too poor to leave a will.' Administration systems for wills differed across the United Kingdom; find out how wills can be accessed in England, Wales, Ireland, and Scotland.