Fortune and Misfortune
Event Information
When
2 Aug 2014

9:00am

-

12:30pm
Where
Queensland Baptists Conference Centre, 53 Prospect Road, Gaythorne
Brisbane
Queensland
Other Information
Cost: $15.00 QFHS members and $20 non-members (includes morning tea)
Contact
Fortune and Misfortune: Parish Chest, Poor Law, and Bankruptcy
Presenter/s: Bev Bonning, Sue Reid, and Chris Schuetz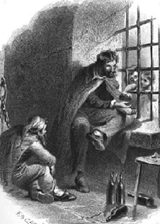 Bev Bonning has been researching her families since the beginning of this century, and has overcome many of the brickwalls in their histories using the documents found in the Parish Chest. She has responsibilities for a number of areas within QFHS.
The Parish Chest and Poor Law. The records from the Parish Chest provide a contemporary and revealing insight into the social fabric of the parish and how the parish dealt with issues of providing relief to the poor, aged, and infirm. With the creation of the Poor Law Unions in the 1800s, this responsibility passed to civil administration with its resulting copious and detailed record keeping.
Sue Reid is the Convenor of the Education Sub-Committee of QFHS. She is the author of a number of family history articles published in Australia and overseas.
Mid-Nineteenth Century Bankruptcy in England. This presentation will examine the difference between bankrupts and insolvent debtors, and look at some available sources to discover more information about those people unable to pay their debts.
Chris Schuetz holds a Graduate Diploma in Local, Family and Applied History. He has used his family research experience to compile books of social history for two family lines.

Mid-Nineteenth Century Bankruptcy in Australia: an untapped source of information for family historians. For some, bankruptcy was just a part of doing business but it could also change lives—and for us—leave a paper trail. This presentation will look at some examples of personal and corporate insolvency and show how laws and public attitudes could change over time.
To register see www.qfhs.org.au/events/qfhs-seminars/fortune-and-misfortune