Ancestry and Family Tree Maker Seminar
Event Information
When
20 Jul 2014

10:00am

-

4:00pm
Where
Aspley Hornets Football Club, 50 Graham Road, Carseldine
Brisbane
Queensland
Other Information
Cost: $45 QFHS and VicGUM Members and $55 non-members
Contact
Ancestry and Family Tree Maker ™ Seminar
Presenter/s: Duff Wilson, John Donaldson and Doug Elms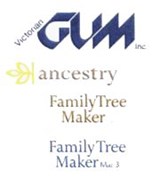 Robert "Duff Wilson" is the Senior Product Manager Family Tree Maker from Ancestry.com, Provo, Utah. He has over twenty years of software design and development experience. He holds a Master's Degree from Utah State University in Instructional Technology with an emphasis on computer-based instruction and has earned a number of notable awards for his work.
John Donaldson, an alpha tester for Family Tree Maker ™ and Past Secretary of Victoria GUM Inc., an association of family history researchers using computers (www.vicgum.asn.au), and will be joined by Doug Elms, President of Victorian GUM. The seminar will cover the following topics.
Ancestry and the Community

The future for Family Tree Maker

Ins and outs of Family Tree Maker

Ancestry hints, search, and DNA

Online Ancestry Member Trees (AFT)

Q&A session
To register see www.qfhs.org.au/events/qfhs-seminars/ancestry-and-family-tree-maker-%E2%...